Another easy project, thanks to Martha. I came across few interesting ideas on Martha's web site, but who doesn't right?
First one called Vellum Halloween Table Lanterns you find it
here
and the second one called Mirror Glow Eyes, you can find it
here
I decided to combine both projects and here is the result
I've used templates for lanterns as Mirror Shapes, which I cut out of old cardboard box which painted black.
The center of the lantern became my mirror shape, which I cut out of old helium balloon (I know, it probably makes me sound very cheap: )) but I am sure kitchen foil will work just as fine. Then I've painted Spooky Eyes over foil part using the same black paint. I hang them over my existing frames using suction cups with hooks and tah dah!
Oh, I almost forgot - the embellishments on the mirrors (the orange circles on top) you can find
here
New Halloween Decor and No Money Spend - AGAIN! Thanks Martha! Thanks Jenny!
Have fun decorating for Halloween!
P.S. I am linking this post to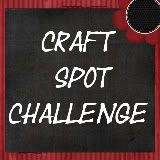 and